Featured Grassroots Charity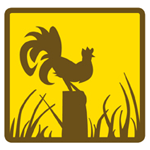 Name: Maple Farm Sanctuary
Web Address:www.maplefarmsanctuary.org
City/Town: Mendon
State: Massachusetts
Description: Maple Farm Sanctuary is an animal sanctuary providing lifelong homes for abused, abandoned and unwanted farmed animals while promoting veganism and respect for all life through public information. Maple Farm Sanctuary has taken in a fraction of the billions of farmed animals that are bought, sold, tormented and slaughtered by the meat, dairy and fur industries. Learn more!


---
To Give is to Receive
When we are inspired to give from the heart, we receive the blessings of love through what we give. To give and receive is one action. We can only give if we are willing to receive the gift of giving. If we give a hug, we receive a hug. If we give of our time we receive the gift of what we are doing with our time. It is not enough to give, but to be a whole part of what we are giving. When our gifts come from our heart, the love within our heart grows stronger. We are blessed by who we are in love. It is from who we are that inspires what we do. When our focus is on giving we are immediately open to receive.
We will never be without if we are giving from within. The energy that is required to give from the heart is an endless source. Love is that source. If we give without love then what we give will feel like it is being taken from us. And what is received will not by given to us. What is a gift if not given in love? This is why when we give we should always look within and give all we have to love through the action of giving and receiving. Let the heart of humanity guide us to give without worry, want, or guilt. Give because we know what we give is the blessing of who we are in love. It is giving from love that allows our love to live on. Remember to give is to receive and to receive is to know we make a difference because we are the difference we make. Let's make a difference together! Let's give through the love that exists within!
List of Charity Categories
"Things of the spirit differ from things material in that the more you give the more you have." -Christopher Morley
---
WHERE URGENT HELP IS NEEDED